Missoula Chiropractors for Experienced Care
Feel Your Best at Butler Chiropractic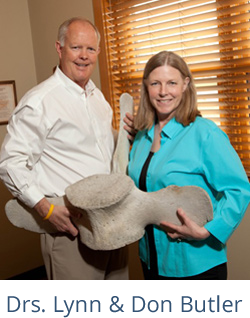 Missoula Chiropractors Dr. Lynn Butler and Dr. Don Butler offer the best in experienced, hands-on pain relief and wellness care, with an emphasis on gentle treatment delivery. Their mission is to help every patient have a better life, regardless of their age, vitality level or current physical condition. Butler Chiropractic is family-friendly, and welcomes everyone from children, adults and seniors, to those suffering with on-the-job, auto accident or sports injuries.
A Home Away From Home
Our office has been described as warm, inviting and heart-centered. From the time you enjoy a crackling fire in our cozy waiting room to our compassionate and skillful treatment delivery, we want you to feel completely at home. Our dedicated staff of chiropractors and massage therapists work as a powerful team in customizing your care to help you reach your goals.
Although we provide old-fashioned customer service in working with our patients, it's also our goal to bring you the latest in treatment excellence. When you're a member of our practice, we partner with you in helping you to achieve your wellness potential.
Experienced Hands Help You Reach Your Full Potential
For almost three decades, we've treated over 24,000 patients from 22 states and over a dozen countries, and it's only served to increase our dedication and passion to helping sick people get well. Despite our success, we also know that sometimes outside help is needed. We're honored to enjoy many strong working relationships in our community with highly skilled physical therapists and medical doctors, and will never hesitate to refer you to another professional when necessary.
It's our promise to you to always exceed your expectations. The experienced care at our convenient location is supportive and patient-focused. Many patients refer to us as "the chiropractor near me that I'd still travel a long distance to see!" Contact our chiropractor Missoula today for a same day appointment; we accept most insurance for your convenience.